Building a desktop HiFi system has always been full of compromises. Stacking various brands of equipment together makes it to hard have an elegant and compact setup. For streaming media, such a setup usually brings an unacceptable experience.But now there is a new solution.
The FiiO HiFi desktop experience version 1.0 is now available. With the R7 serving as the centerpiece, and backed by the SP3 speakers and FT3 headphones, You will experience a consistent and highly enjoyable audio and visual device. Welcome to a new era of a slick desktop HiFi experience!
KEY TO A BRAND NEW WORLD OF HIFI DESKTOP EXPERIENCE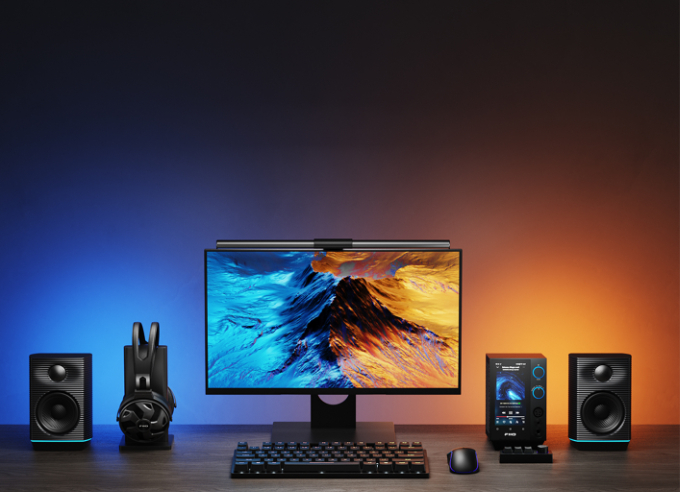 The R7 combines transmitter/decoder/amp/preamp/media playback  functions into one unit. Besides numerous connections and expansion capabilities as well as a wide variety of operating modes, It is also capable streams media on a gorgeous portrait screen for an extraordinary user experience. The R7 brings you an attractive-looking, easy-to-use and great- sounding desktop HiFi experience!
FULL RANGE OF INPUTS AND OUTPUTS DESKTOP HIFI CENTER ALL-PURPOSE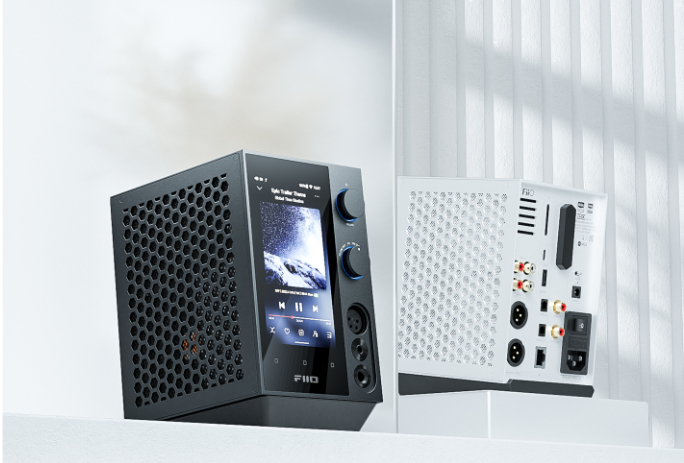 The R7 features connectivity far beyond what one would expect from it, helping you to quickly and easily build a desktop HiFi system with the R7 as the heart of it.
Front: 6.35mm headphone output 4.4mm balanced headphone output Four-pin XLR balanced headphone output.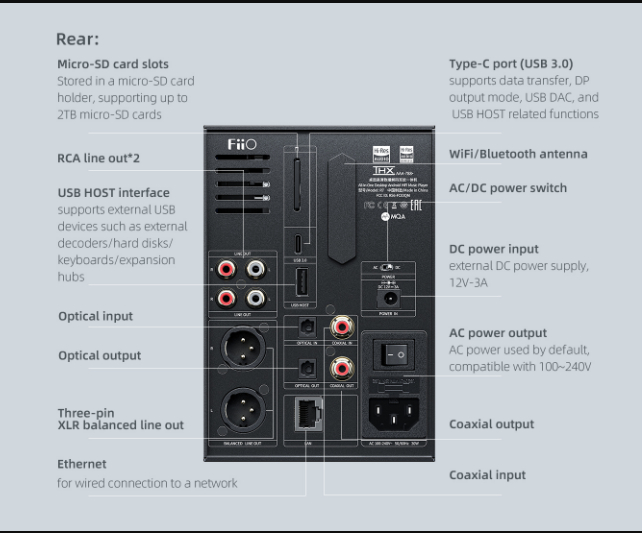 MANY OUTPUTS WITH JUST A TURN OF A KNOB
No need to plug and unplug cables, as you can conveniently switch between the PO/LO/PRE OUT/PO+PRE OUT outputs simply by turning a knob.
PO: Only front audio outputs are active
LO: Only rear audio outputs are active (fixed at max output)
PRE OUT: Only rear audio outputs are active (adjustable volume)
PO+PRE OUT (default): both front audio outputs + rear audio outputs
MULTIPLE MODES FOR MORE EXCEPTIONAL EXPERIENCES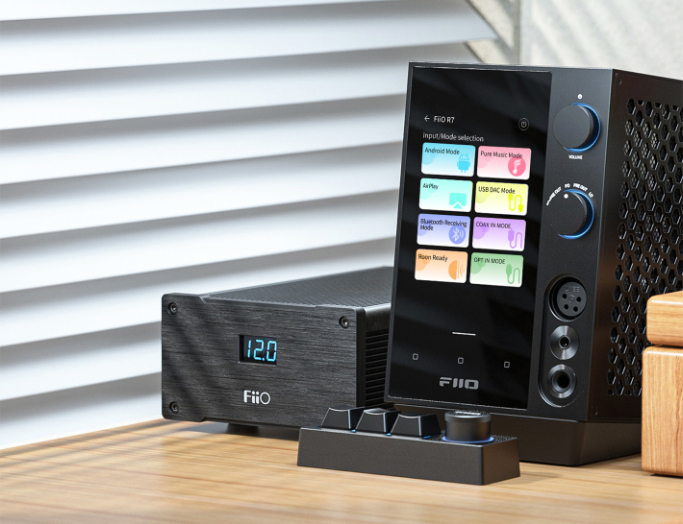 Android mode: Enjoy third-party apps, such as major streaming services
Pure music mode: Exclusive FiiO pure music mode, for even more immersive music
USB DAC mode: Greatly improve the sound of any computer/phone by connecting to them as a decoder
Bluetooth receiver mode: Supports LDAC/SBC/AAC, making it easy to listen to excellent sound
AirPlay receiver mode: Wirelessly connect iPhone/iPad and other iOS devices, giving them a huge boost in sound quality
Roon Ready mode: Roon Ready certified, giving you an ergonomic player in seconds
Coaxial/optical decoding mode: By being able to receive optical/ coaxial signals, the R7 turns into a high-performance decoder
CONVENIENT, INTUITIVE
The R7 is unique in that it's easy to use and offers an astounding number of ways to listen. When listening to music streaming apps, easily switch between headphones and speakers or any other output mode. Conveniently listen to songs stored locally on the R7 – thanks to its built-in storage and micro-SD card support – or receive Bluetooth audio from your phone – with support for high- resolution Bluetooth audio formats. With the R7, you can truly listen any way you want.
R7 supports micro-SD cards up to 2TB and comes with a micro-SD card holder. R7 features Bluetooth 5.0; supports reception of SBC/ AAC/LDAC; supports transmission of SBC/AAC/aptX/ aptX HD/LDAC/LHDC.
R7+HEADPHONES
Through either the XLR and 4.4mm balanced outputs or the 6.3mm single-ended output, connect the R7 to the FT3 or other headphones for faithfully reproduced music.
R7+ACTIVE SPEAKERS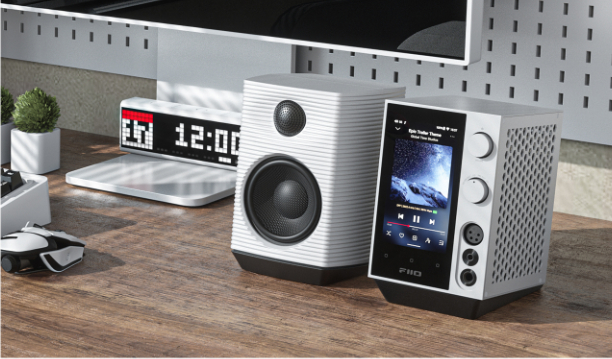 Connect the R7 to the SP3 or other speakers via the XLR, RCA single-ended, USB, coaxial or optical ports and enjoy truly immersive three-dimensional sound in a grand soundstage.
R7+HEADPHONES+ACTIVE SPEAKERS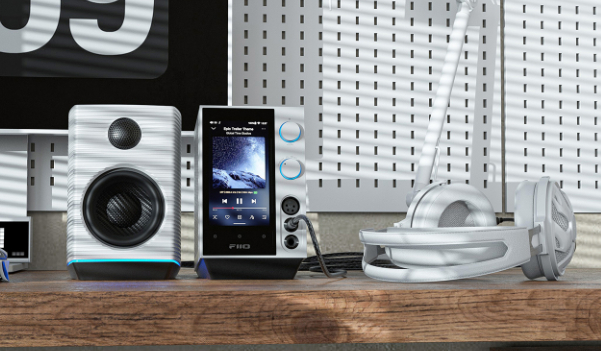 The R7 can serve as a convenient hub to connect both speakers and headphones. Turn the knob to conveniently switch between listening devices by changing the output mode. PO-headphones; PRE OUT-speakers; PO+PRE OUT – headphones + speakers (at the same time)
CUTTING-EDGE TAKING YOUR EXPERIENCE TO THE NEXT LEVEL
For even more ways to listen, you can fully utilize the USB HOST interface to connect external portable drives, the FiiO KB1 keypad and other devices for an even more convenient desktop HiFi experience that is suited specially for you.
R7+SPEAKERS+HEADPHONES+HUB+PORTABLE DRIVE+KB1 KEYPAD
Use the portable drive to store a large amount of your favorite lossless music. Wield the KB1 to conveniently change tracks, adjust the volume, and switch output modes while listening to those tracks on the portable drive.
REMOTE CONTROL LETTING YOU LISTEN WITHOUT ABANDON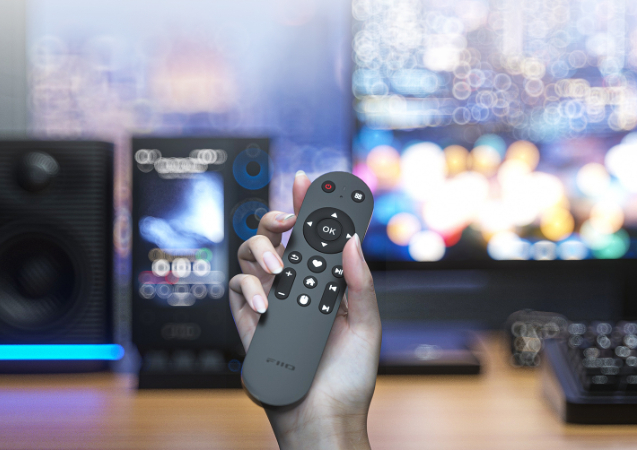 Want to listen to your music without having to get up? You can go with the FiiO Music app or a Bluetooth remote control, allowing you to control your music from a distance and conveniently handle various operations with ease. Be truly unshackled when listening. *In the future, FiiO will launch a customizable universal Bluetooth remote control.
A COMPLETE HIFI DESKTOP SETUP!
With the help of the KB1 keypad and the PL50 linear power supply, you can unleash the R7's full potential in experiencing a truly enthusiast-level complete FiiO desktop HiFi system!
R7+SPEAKERS+HEADPHONES+HUB+PORTABLE DRIVE +KB1 KEYPAD+NAS+PL50 LINEAR POWER SUPPLY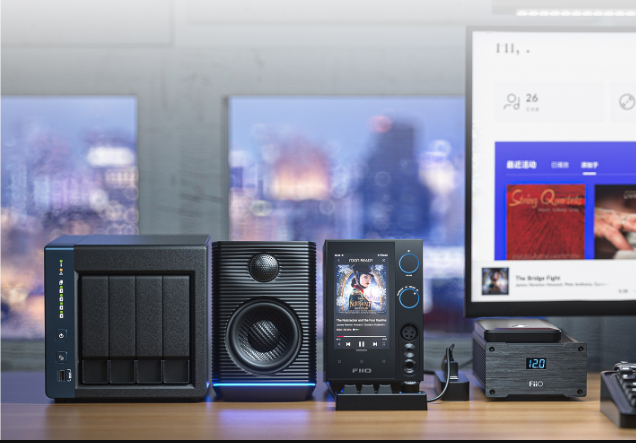 T
ime to be your own DJ! The R7 can act as your control hub for accessing your music, when connected to a NAS and playing music through DLNA. The R7 is Roon Ready certified, allowing you to access music from a ROON CORE source such as a NAS or a computer. And if that is not enough, the R7 itself can act as a network music server thanks to being compatible with the DLNA transmission protocols. Through DLNA, on another device one can access the music on the R7's internal storage, micro-SD cards, and even tracks on a connected external portable drive.
FIIO HIFI DESKTOP EXPERIENCE VERSION 1.0
Whether you are a beginner or a seasoned veteran audiophile, you can easily get started and build a desktop HiFi setup around the R7. You can also synergistically further pair the R7 with other FiiO products to further enhance your listening experience, opening the door to a totally new and refreshing desktop HiFi experience.
MORE POWER ALL IN THE PURSUIT OF GREAT SOUND
4th-gen FPGA with phase-locked loop clock tech+2 femtosecond crystal oscillators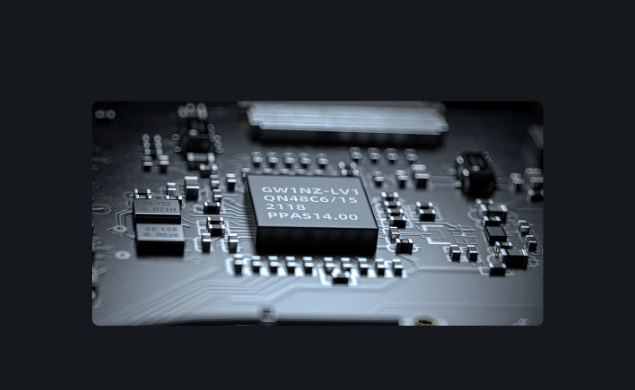 Allowing for a high-precision, low-jitter unified clock source for cleaner and more stable audio.
Specially-optimized audio circuit design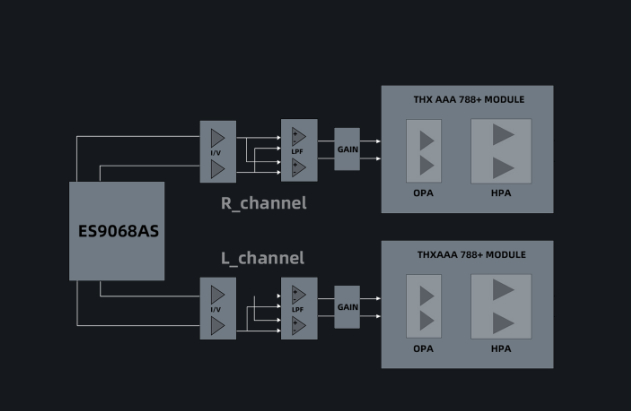 The R7 utilizes an ES9068AS DAC in conjunction with a pair of THX AAA 788+ headphone amplifiers. In addition, inside the R7 are other premium components, such as four Panasonic PPS film capacitors. No expense was spared in using superior components to ensure the R7 faithfully reproduces your audio.
5 GAIN LEVELS, 3.6W HIGH OUTPUT POWER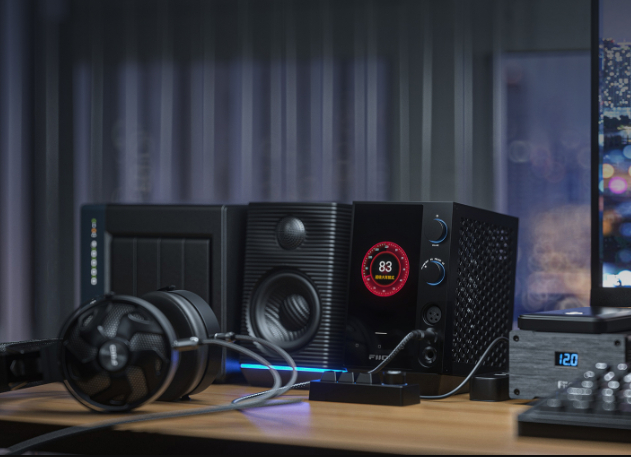 The R7 has five gain levels: low/medium/high/over-ear headphone/ enhanced over-ear headphone mode. Under a 32Ω load using enhanced over-ear headphone mode, the R7 is capable of outputting up to 3.6W, more than enough to power low- and high-impedance headphones.
ELECTRICITY IS THE ROOT OF GREAT SOUND
DC/AC dual power supply design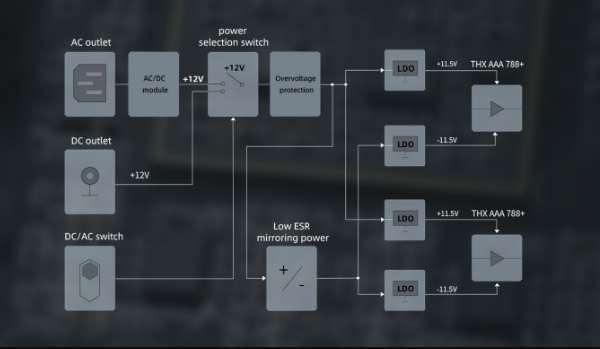 Inside the R7 is a 30W switching power supply. The AC input circuit employs filtering and purification with a large capacity choke and dedicated high-voltage capacitors. The DC input circuit is of a ±12V high-voltage power supply design. Both power circuits contribute to the robustness of the power supply system, to better give that dynamic sound to your music. The R7 can also be used with external DC power supplies, such as the FiiO PL50 linear power supply or other power supplies to give your sound an even purer, blacker background to truly make the musical details pop. *Only 12V-3A external DC power supplies are supported
Premium components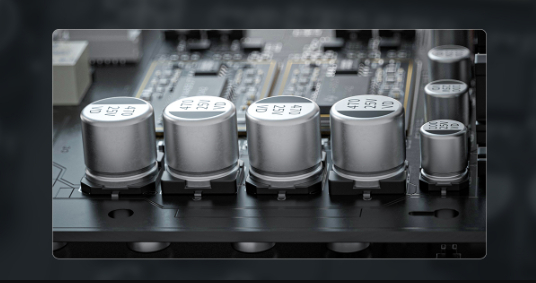 The 12 470uF tantalum capacitors help to regulate and purify power in the power supply and thus further reduce power supply noise. In addition, the specially-designed metal cover locks the transformer in place to the main power supply board, reducing the jitter of the power supply and resulting in more stable power.
POWER SUPPLY DESIGN WITH NUMEROUS LDOS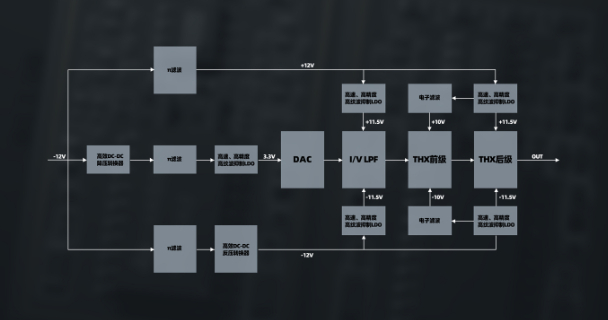 Thanks to power stabilization and filtering in part due to each stage of the audio circuit employing ultra-low-noise LDOs for voltage regulation, the R7 is continuously fed with stable, clean power.
A SIMPLE SOLUTION FOR MANY DEMANDING NEEDS
The R7 is capable of many tasks, being able to act as a transmitter/ streaming media player/decoder/amplifier/preamp. It effectively consolidates into a compact package what used to require many different devices to do. One simple device can now meet all of your demanding listening needs. The R7 is also highly scalable and can be easily connected to many other external devices, inviting you to further explore the limits of the R7's truly mind-boggling functionality.
BOLD DESIGN EXPLORING NEW FORM FACTORS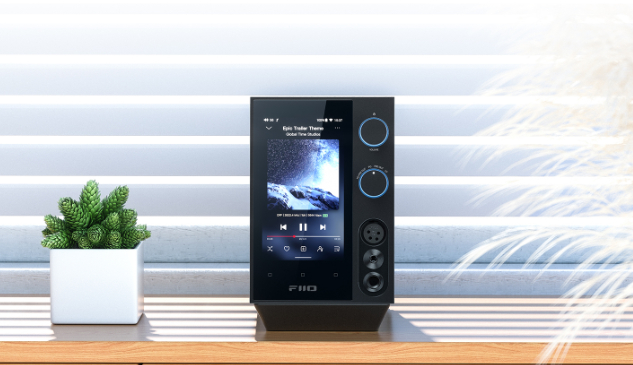 3 years ago, we already started thinking about how to make a streaming media player that is ideally suited for even the smallest desktop spaces. We explored numerous form factors for a year, such as having a horizontal, flip, or even rotating screen. For each form factor, we built a specifically optimized and handcrafted prototype to truly and fully explore the advantages and disadvantages. After much real-world testing and many lessons learned, we boldly decided that the R7 would adopt a portrait-oriented display, fit within an elegant and compact package. With the R7, we wish to herald a new era in the desktop HiFi experience.
PORTRAIT-ORIENTED SCREEN NEW INNOVATIVE HEIGHTS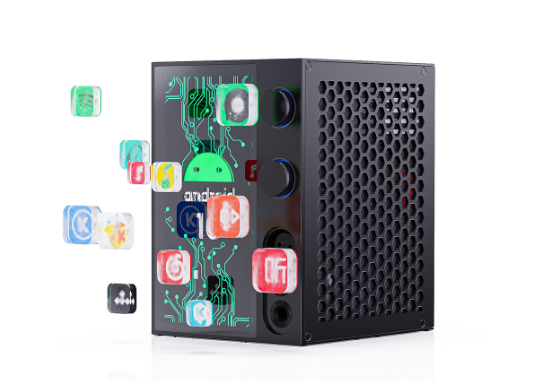 Thanks to the 5.0-inch high-definition display and Android operating system, you can enjoyably experience major streaming and other third-party apps like never before on the R7. Satisfy your media consumption desires with the R7.
HANDSOME DESIGN TRULY SHOWING THE BEAUTY OF HIFI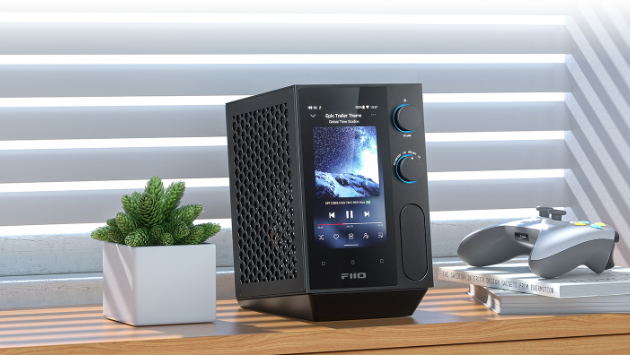 With the suave, square R7 on your desk, your desktop HiFi setup comes to life; The gorgeous portrait display also helps to save space; Thanks to the included protective covers, you don't have to com- promise on maintaining good looks on your great-sounding unit; The side honeycomb vents serve as both heat dissipators and as a futuristic touch; A recessed rear panel means more elegant wire connections and less clutter;The seamless WiFi/Bluetooth antenna packs much capability in a simple square inch;Handsome design Truly showing the beauty of HiFi.