POCKET DESKTOP-LEVEL MACHINE – M15S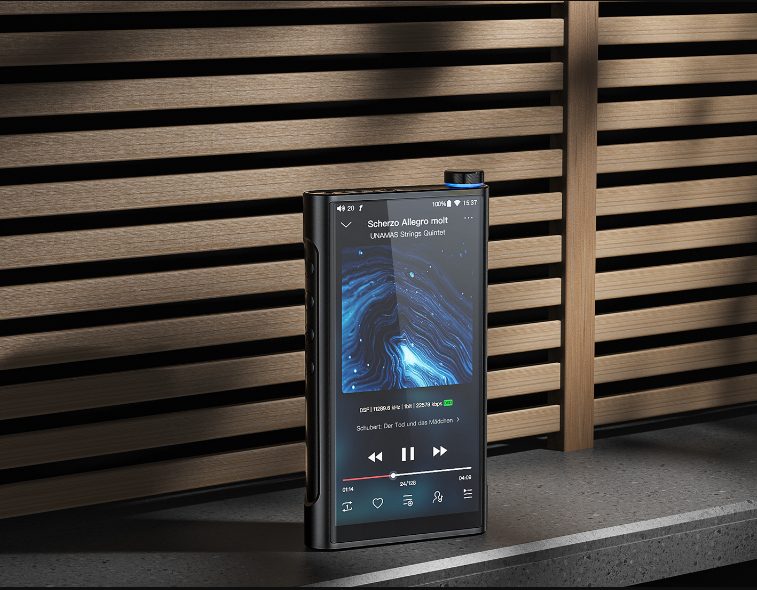 The "desktop/portable dual power supply modes" as featured on the portable desktop-grade player M17 and the portable desktop-grade amp Q7 have been well-received by the audiophile community, which is why we sought to put this technology on other products. Now, with the implementation of the dual power supply modes onto the M15 with its more ergonomic design, the M15S is the ideal combination of portability and high performance.
FLAGSHIP-LEVEL TECH
A New Chapter in The High-End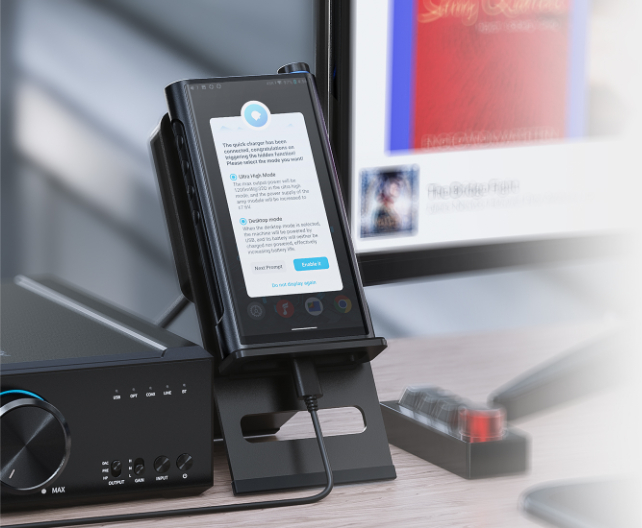 The new M15S starts a new chapter in the FiiO high-end, sharing the same technologies as the portable desktop-grade M17 player and the portable desktop-grade amp Q7 that give you desktop-level performance in a portable package – including desktop mode, dual power supply modes, and five gain levels.
DEDICATED DESKTOP MODE
When in the dedicated desktop mode and under USB fast charging, the M15S will transform essentially into a desktop device and work completely without the battery. That is, under this mode the battery will neither be charged nor discharged, preventing premature battery degradation.
DESKTOP/PORTABLE DUAL POWER SUPPLY MODES ROBUST PERFORMANCE EVERYWHERE
The M15S not only features the "desktop/portable dual power supplies" as seen in other FiiO products, it is also equipped with an automatic "auxiliary DC power supply" – the M15S is able to automatically recognize when fast charging through USB is being used and automatically switches to use the highest-voltage power supply, leading to an increase of 26.67% in power supply for even more power output.  Even when not using the fast-charging adapter, the M15S can still automatically switch to a higher-voltage power supply that is enough to drive most headphones.
FIVE GAIN LEVELS NEAR-DESKTOP POWER
The M15S can be adjusted with five levels of gain.Under battery power, low/medium/high/over-ear headphone gain levels can be selected.When under USB power, the enhanced over-ear headphone gain level is also available, enabling undistorted power output up to 1200mW per channel, easily enough to drive a wide variety of IEMs and headphones.
SIX OPERATING MODES INCLUDING ROON READY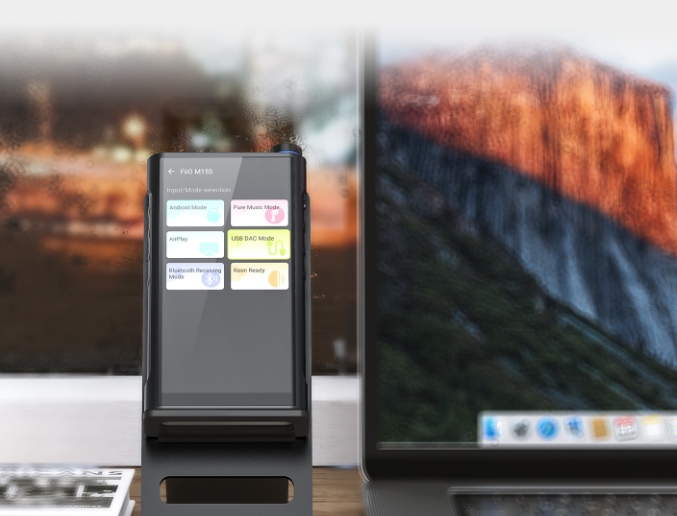 Pure Music mode: FiO exclusive mode, for immersive music.
Android mode: Freely use third-party apps, including those of streaming services.
AirPlay mode: wirelessly connect to iOS devices like iPhoneliPad, with a sound quality boost.
Roon Ready mode: Roon Ready certified, for serious music lovers.
USB DAC mode: acts as a DAC when connected to a computer/phone, for greatly improved sound.
Bluetooth receiver mode: supports SBC, AAC, aptX, aptX HD, aptX LL, LDAC, and aptX Adaptive, for convenient quality wireless sound.
OVERBUILT POWER SUPPLY FOR AMPLE CLEAN POWER ANYTIME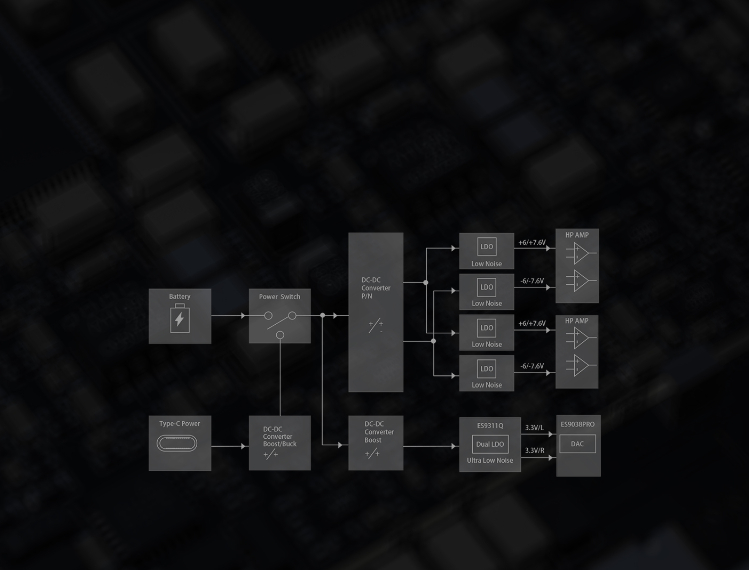 Fully separated digital power supply, effectively reducing crosstalk and interference. Multi-stage analog power supply, high-precision and low-noise for early signal processing. Multi-voltage servo power supply for headphone amp, capably driving low and high-impedance loads.
HIGH-PERFORMANCE ES9038PRO DAC DESKTOP-GRADE PART
The full, uncut desktop ES9038PRO DAC chip with eight independent D/A converters is employed in the M15S.Each channel uses four D/A converters in parallel to form a fully differential output, for a truly rich and highly resolving sound.
4TH-GEN FPGA+NDK FEMTOSECOND CRYSTAL DAPS DIGITAL AUDIO PURIFICATION SYSTEM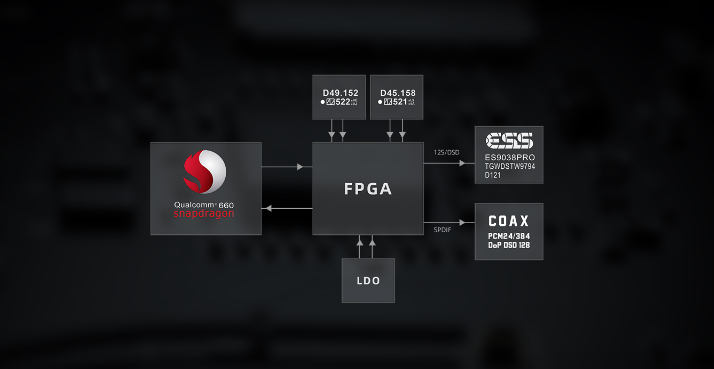 Audio data is passed through a FiiO-developed 4th-gen FPGA with phase-locked loop technology, which works together with two custom Japanese NDK femtosecond crystal oscillators to provide a high-precision and low jitter unified clock source for the entire audio architecture. This is all done in the pursuit of purer sound.
MULTI-STAGE AUDIO CIRCUIT FOR FAITHFUL SOUND REPRODUCTION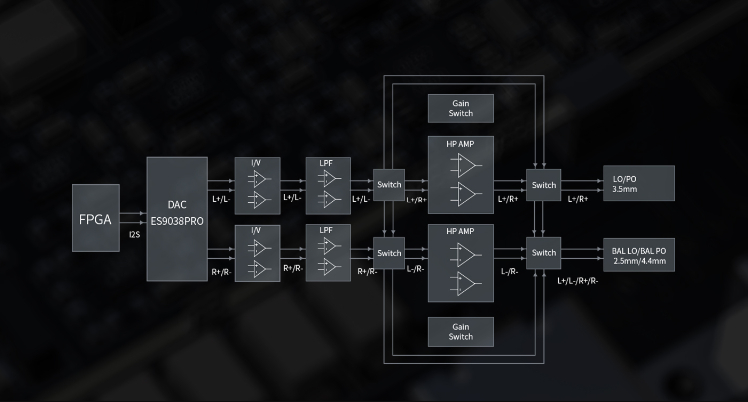 The M15S features a multi-stage audio circuit complete with IV, LPF, gain adjustment and amplifier sections. High-precision and low-noise film resistor used ensures more accurate signal reproduction and channel balance. Within the LPF part of the circuit are Panasonic low-loss metalized film capacitors that guarantee extremely low harmonic and phase distortion.
GRAPHENE HEAT DISSIPATION TECHNOLOGY COOLING FOR CONSISTENT HIGH-POWER OUTPUT
Advanced and highly efficient heat dissipation design allows the M15S to maintain stable temperatures and continuously deliver high power output: Stainless steel battery compartment, to quickly dissipate battery heat; Low temperature-drift and high-precision thin-film resistors and capacitors, that can stably cope with temperature swings; A dedicated metal shield, graphene, and high thermal conductivity silica gel over hotspots for maximum heat dissipation.
COMPREHENSIVE SHIELDING FOR TRULY "CLEAN" SOUND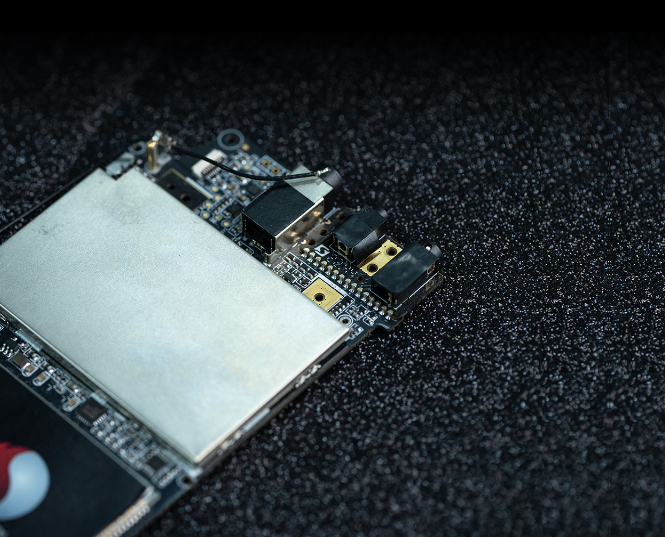 In order to shield from interference as much as possible, the M15S employs a nickel copper shield that shields the analog portion of the audio circuit as well as the main SoC to ensure the purity of the analog signals traveling through the circuit. In addition, stacked onto the main shield are other heat dissipation and shielding materials as well as wave-absorbing paper. The high-quality parts and carefully-considered shielding design all aim to ensure truly clean and highly-resolving sound.
WIRELESS HIFI TAKEN TO THE NEXT LEVEL SBC/AAC/APTX/APTX HD/LDAC 2-WAY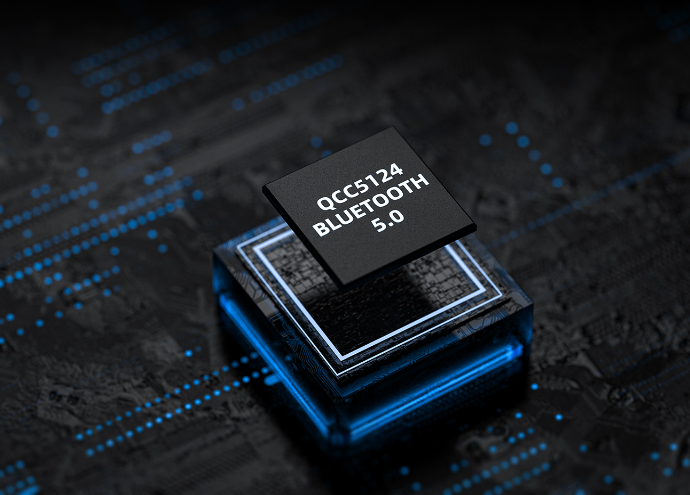 The M15S wireless capabilities include AirPlay, DLNA streaming and transmission, as well as Bluetooth. Bluetooth is handled by the Qualcomm QCC5124 chip that has a proven track record in other FiiO products, allowing the M15S to capably handle 2-way Bluetooth.
Bluetooth 5.0 supported transmission: SBC, AAC, aptX, aptX HD, LDAC, LHDC
Bluetooth 5.0 supported reception: SBC, AAC, aptX, aptX HD, aptX LL, LDAC, aptX Adaptive
KNOB/BUTTON VOLUME ADJUSTMENT RELIABLE AND EASY TO USE
Volume on the M15S can be adjusted either with an analog potentiometer knob or with buttons, both easily allowing you to fine-tune through the 120 levels of volume the way you prefer.
Feel free to turn the volume knob to your heart's content, as the integrated rotary encoder is highly precise and des gned for minimal wear with each turn of the knob. Even if you accidentally drop the device, the encoder is securely fixed ensuring the continued reliability of the volume knob.
The volume knob features RGB lights, which can be customized in brightness, color, and behavior under various device statuses. Encoder rated durability>30000 cycles (360° forward rotation+360° reverse rotation is 1 cycle).
QUALCOMM 660+ANDROID 10 A MATCH MADE IN HEAVEN
With the stable and smooth combination of the Qualcomm Snapdragon 660 and Android 10, you can start listening quickly with the M15S.With the ability to freely install third-party apps and with no global SRC, you can be sure to listen to the music you want in the highest quality.
ELEGANTLY CONSTRUCTED INSTANTLY MESMERIZING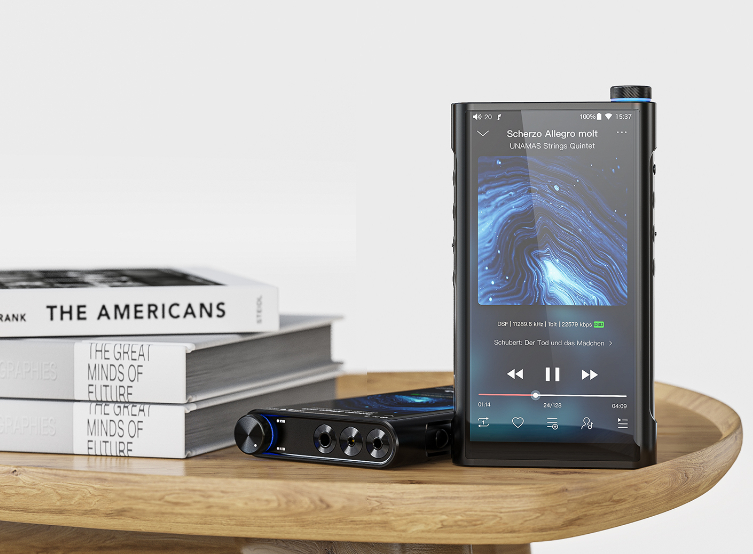 The M15S features a combination of classical timeless styling and modern technological touches that give it an elegant appearance that is enjoyable to use.
3.5mm single-ended headphone output, with line out and coaxial out support 4.4mm balanced headphone output, with balanced line out support.
LONG BATTERY LIFE FOR WORRY-FREE USE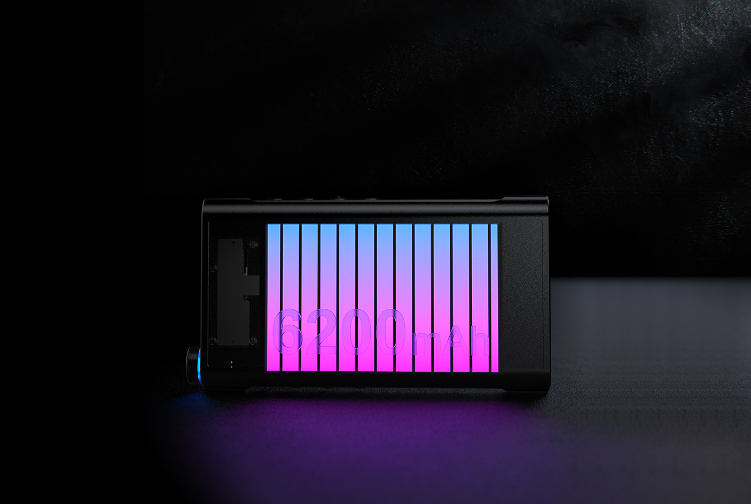 Despite its portable size, the M15S features a large 6200mAh battery that ensures all-day listening whether you are using single-ended or balanced output.Battery charge optimization and battery protection systems are there to ensure that the battery will last for a long time.
MORE SAFEGUARDS FEWER HEADACHES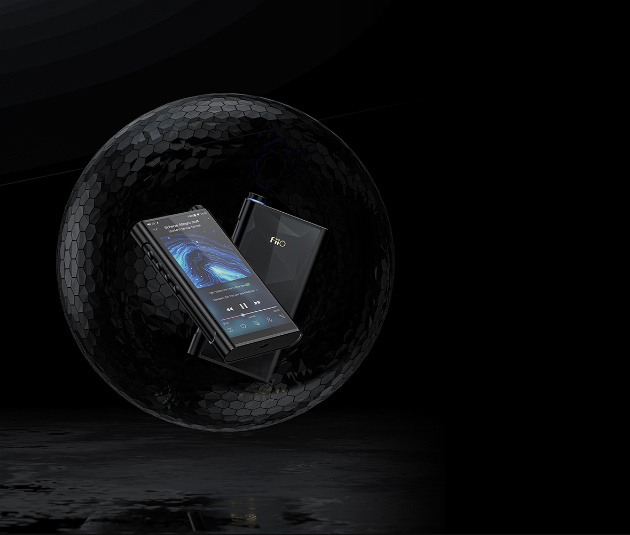 The overheat protection and battery protection systems are among the many safeguards that ensure the M15S can consistently maintain its high power output, letting you listen with fewer headaches.
Temperature protection: The M15S regulates itself to be within an optimal temperature range no matter the environmental conditions, including stopping battery charging if necessary.
Optimized battery charging: In desktop mode, the M15S can be used without going through the battery. When not in desktop mode, the M15S can be placed in an "optimized battery charging" mode that prevents the battery from being charged all the way to 100% to prevent premature battery degradation.